Full-electric series
0 emissions. 0 leaks.
GH presents a leap forward with clean energy for its marine and industrial rubber tire gantry cranes while still delivering the same power.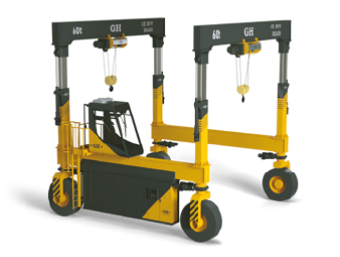 ELECTRIC MARINE SOLUTIONS
The 65-ton capacity GH70e marine rubber tire gantry crane is the first of our electric models.
A high-performance, lithium-ion battery core ensures autonomy throughout a full day's work, with a built-in charging device that makes recharging easy.
GH is committed to sustainability, incorporating an independent solar panel support system that provides up to 20% of the daily energy used.
The variable span improves dry-docking efficiency for boats with different beams, while electronic steering offers full handling versatility.
GET IN CONTACT WITH US
ELECTRIC INDUSTRIALES SOLUTIONS
The electric industrial rubber tired gantry cranes also back our commitment to sustainability while inheriting the fundamental characteristics of their marine equivalent:
High-performance, lithium-ion batteries and built-in charging device.
There are 3 typical versions: Singe Girder, Double Girder, and U-Shaped, designed to provide the flexibility this sector requires.
Variable gantry crane height is included, with telescopic legs to facilitate moving equipment into industrial warehouses without emissions or leaks, all while providing the efficiency that day-to-day performance requires.
Modular batteries are included, which allow a full workday's worth of autonomy according to each client's specific demand.
GET IN CONTACT WITH US